Bedroom Elegance: Discover the Beauty of Upholstered Bed Headboards
Elevate the charm of your bedroom with the timeless beauty of upholstered bed headboards. These luxurious additions bring a touch of elegance and sophistication to any sleeping space. Imagine sinking into your bed with a soft and padded headboard as a backdrop, creating an inviting oasis of comfort.
Upholstered headboards are not only aesthetically pleasing but also offer practical benefits. They provide a cozy surface to lean against while reading a book or watching your favorite show. Plus, they can help reduce noise and insulate your head and pillows from drafts, enhancing your overall sleep experience.
The versatility of upholstered headboards allows you to personalize your bedroom decor. Choose from a wide range of fabrics, colors, and styles to match your unique taste. Whether you prefer a classic, modern, or rustic look, there's an upholstered headboard that complements your vision.
Investing in an upholstered headboard means investing in both style and comfort. These durable pieces are designed to withstand the test of time, making them a long-lasting addition to your bedroom. So, why wait? Discover the beauty of upholstered headboards and transform your bedroom into a haven of elegance and relaxation.
Cozy Comfort: Upgrade Your Bed with an Upholstered Bed Headboards
Experience the ultimate in bedtime luxury by upgrading your bed with an upholstered headboard. This simple yet impactful addition can transform your sleeping space into a haven of comfort and style.
Upholstered headboards offer a plush and inviting surface to lean against, making bedtime activities like reading or watching TV more enjoyable than ever. Say goodbye to the discomfort of leaning against a hard wall and hello to a soft and cozy backdrop.
Not only do upholstered headboards enhance your comfort, but they also add a touch of sophistication to your bedroom decor. With a wide array of fabrics, colors, and designs to choose from, you can easily find the perfect headboard to match your personal style and existing decor.
These headboards are not just about looks; they're practical too. They help reduce noise by cushioning the impact of your headboard against the wall, and they provide insulation to keep you warm during colder nights.
Upgrade your bed with an upholstered headboard today and indulge in the cozy comfort you deserve. It's a simple yet stylish way to make your bedroom a retreat where you can relax and unwind in style.
Sleep in Style: Why You Need an Upholstered Bed Headboards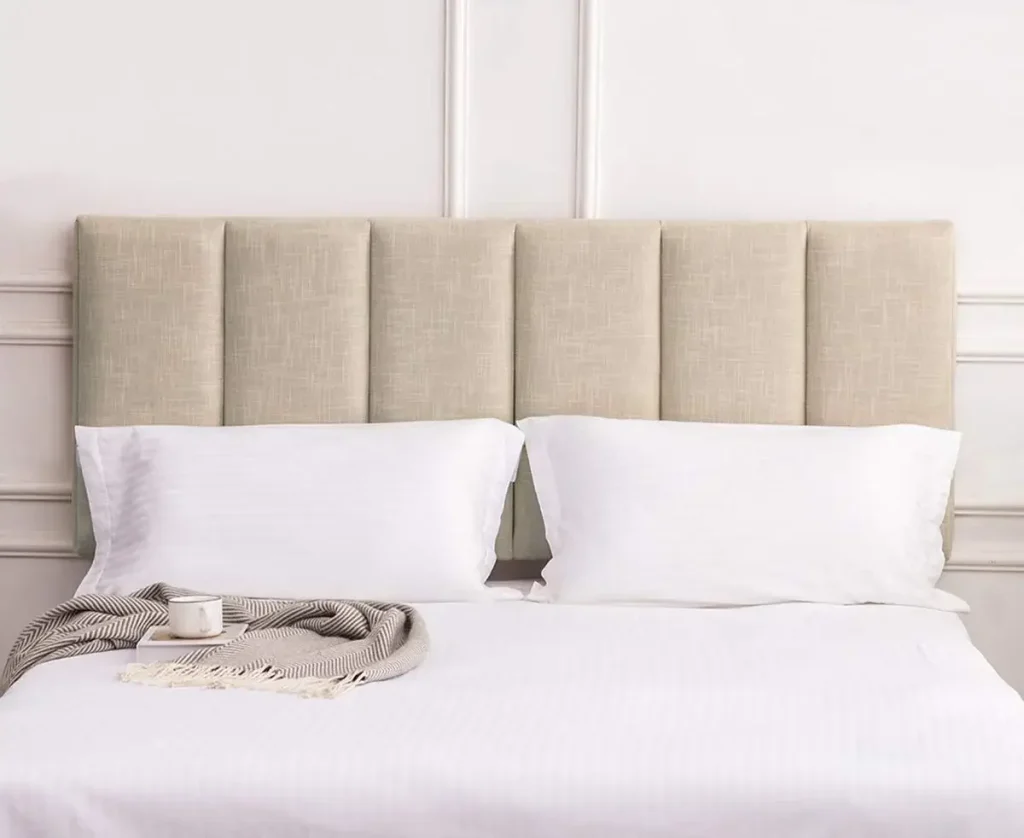 Transform your bedroom into a stylish sanctuary with the addition of an upholstered bed headboard. This chic and practical bedroom accessory is more than just a decoration; it's a must-have for several compelling reasons.
First and foremost, upholstered bed headboards offer a touch of luxury and sophistication to your sleeping space. They serve as a focal point in the room, enhancing its overall aesthetic appeal. With various fabric options, colors, and designs available, you can easily find the perfect headboard to match your unique style and preferences.
Beyond aesthetics, upholstered headboards provide exceptional comfort. Imagine the pleasure of leaning back against a cushioned surface while reading, watching TV, or simply relaxing in bed. It's an indulgent experience that elevates your bedtime routine.
Practicality is another significant advantage. These headboards help reduce noise by acting as a buffer between your bed and the wall, creating a quieter and more peaceful sleep environment. They also provide insulation, helping to maintain a comfortable temperature during all seasons.
In summary, an upholstered bed headboard is a stylish and functional addition to your bedroom. It enhances the room's elegance, offers superior comfort, and contributes to a more peaceful night's sleep. Sleep in style and experience the difference for yourself.
Quality Assurance:

We are committed to delivering top-notch quality in everything we do. Our products/services are meticulously crafted and thoroughly tested to ensure they meet the highest standards.

Expertise:

Our team comprises experts in their respective fields who bring a wealth of knowledge and experience to the table. You can trust us to handle your needs with professionalism and skill.

Customer-Centric Approach:

Your satisfaction is our priority. We listen to your needs, provide personalized solutions, and go the extra mile to exceed your expectations. Your feedback is invaluable in helping us improve our offerings.

Reliability:

Count on us to deliver on time, every time. We understand the importance of meeting deadlines and keeping our promises, making us a dependable partner you can rely on.
Innovation: We stay at the forefront of industry trends and technology, continuously evolving to bring you innovative solutions. Our upholstered headboard commitment to innovation ensures you receive cutting-edge products/services.
Competitive Pricing:

We offer competitive pricing without compromising on quality. You'll find that our rates provide excellent value for your investment.

Integrity:

Honesty and transparency are the cornerstones of our business. You can trust that we will always operate with the highest level of integrity and ethics.

Customer Support:

Our dedicated customer support team is here to assist you every step of the way. Whether you have questions, concerns, or need assistance, we are just a phone call or message away.

Proven Track Record: Our track record speaks for itself. We have a history of Upholstered Bed Headboards delivering outstanding results and building long-lasting relationships with our clients.