Leather Sofa Repairing Services
Using leather for furniture or sofa repair has an intriguing advantage. In the winter, leather keeps you warm. This is why: Like our skin, leather is permeable. The animal was shielded from the elements when leather was a hide. It expanded up during hot weather, enabling more air to pass through and keeping the animal cooler. The hide tightened throughout the winter, keeping more heat.  The leather used in sofa Repairing service has numerous perks like it makes your furniture look luxurious and durable 
 If you want to replicate the sleek, fashionable, and sophisticated style of leather for yourself, our wide selection of leather sofa Repairing materials is ideal. You can choose from a variety of colors, such as bronze newspaper print, espresso brown, and chili pepper red, to completely complement the style of your area. With leather upholstery and other stuff to repair your sofa, the complete piece of furniture can be covered in the leather of your choice. We offer Partial Leather Upholstery to replace the worn, torn, or torn leather with new, complementary leather for seating, panels, or other components. To provide your seats with more suspension support, foam replacement and restuffing sofa cushions are an option.
DUBAI BRANCH
Risala Furniture LLC 9 24 A street, Al Quoz 1 Dubai – United Arab Emirates
ABU DHABI BRANCH
Abu Dhabi Island, Al Salam Street Behind Abu Dhabi Municipality And FAB Bank Heirs. Of Ibrahim G. Sultan Al Suwaidi Building ONLINE FURNITURE – Showroom no. S2 Abu Dhabi
Advantages of Leather  sofa Repairing service
Leather also has the advantage of being hypoallergenic. It is resistant to bacteria and dirt.  Leather also appeals to allergy sufferers. Leather doesn't keep as much dust, pollen, and pet hair as cotton does because of its smooth surface.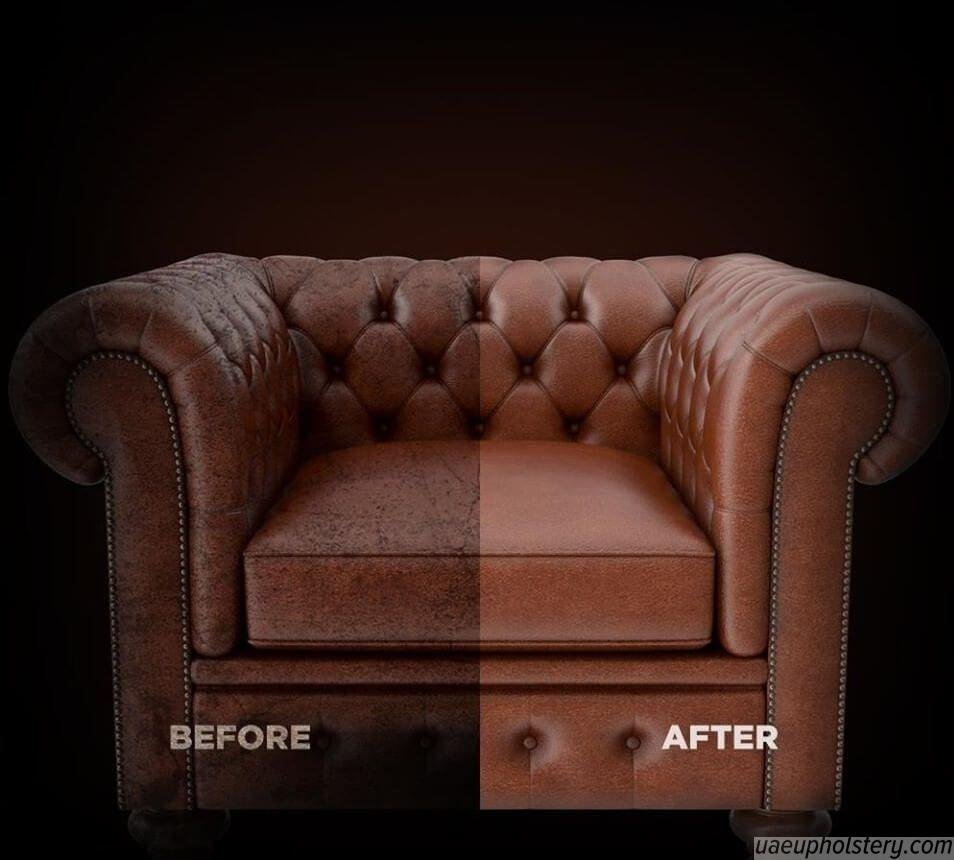 Unquestionably one of the easiest fabrics to maintain, leather is a fantastic option for all upholstery applications, including those on heavy-duty vehicles or boats. Most spills can be wiped up without leaving a trace, and a light dusting will remove any remaining dust and other particles. You can see how easy it is to clean leather by comparing it to other fabrics. Fabric frequently absorbs spills, clings to filth for a long time, and also takes in odors (unlike leather). Fabric upholstery can sometimes be harmed by cleaning or fumigation.
Leather can last for a very long time if properly maintained. Your furniture will remain stylish and upscale there. Leather is a naturally durable material that shines under stress. It can survive scratches, splits, and punctures that other textiles couldn't because it is versatile for regular use. Repairs are simple to perform if there is a tear. For heavy-duty vehicles, its resiliency and breathability make it the best choice.
In terms of Repairing, upholstery, and aesthetics, leather has never gone out of style. Years from now, it will still look great, and your line, whether it's automobiles, aircraft, or yachts, will continue to be fashionable. A wonderful financial investment, leather is a real investment in both function and style.
There was one of the best perks of having leather for sofa Repairing service. Now let's look at where you can avail of this service from. 
Why choose us? 
With the highest caliber labor and expertise, UAE UPHOLSTERY helps you. Years of industry experience in this subject are possessed by our highly qualified employees. We can promise you that choosing our help will be the right move for you. As we take into account your preferences, interests, preferences, selection of color combinations, texture, and fabrics, and your budget, we give exactly what you want