Leather Upholstery services
of its beneficial qualities that no other material could match, leather has long been a prized commodity. An animal hide on the ground served as the most likely oldest form of rudimentary furniture and gave early humans a warmer, more comfortable place to sit or sleep.  Leather is still widely used and highly coveted today. Although there are many different types of textiles and synthetic materials available, leather is still a popular choice for furniture
Furniture made of leather is opulent, elegant, and extremely sturdy. Surprisingly, cleaning it is also simple. Good leather furniture becomes better with age, just like a superb wine! This implies that you can continue to use your leather furniture for longer than you would have been able to with upholstered furniture that is shabby or obsolete. Leather will always be in trend, unlike upholstery textiles! 
Leather upholstery means padding, crushing, and stitching Done on furniture items, automobile seats, aircraft seats, and more. Cowhides are most frequently utilized, However, hides from many other species can also be used to make upholstery leather. The type of leather you choose should be determined by the appearance you're going for in the leather upholstery. Many different types of leather can be produced from cowhide. Similar to how no two human fingerprints are exactly alike, every piece of leather is unique. Depending on the cow's life, different marks will appear on its hide. This is what truly distinguishes your leather from other leathers, such as color variations, grain changes, scars, tick bite marks, and even brand marks.
DUBAI BRANCH
Risala Furniture LLC 9 24 A street, Al Quoz 1 Dubai – United Arab Emirates
ABU DHABI BRANCH
Abu Dhabi Island, Al Salam Street Behind Abu Dhabi Municipality And FAB Bank Heirs. Of Ibrahim G. Sultan Al Suwaidi Building ONLINE FURNITURE – Showroom no. S2 Abu Dhabi
Types of leather you can pick from 
Splitting skin refers to the lowest portion formed when the skin is split into two layers. The leather is colored throughout the finishing process, then later corrected by grinding, pigmented, or left in its suede state. It is the most affordable kind of skin.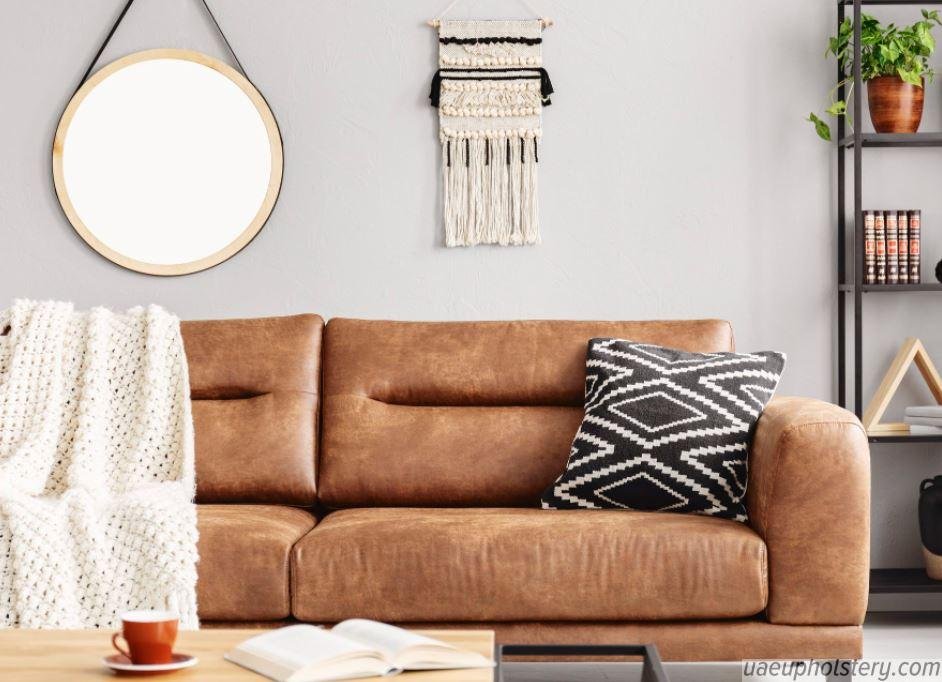 Correct leather – Rectified leather is a sort of strong leather that has been treated with pigments and/or surface printing to hide flaws and provide a consistent appearance. 
Full-grain leather – The most costly and premium type of leather is full-grain leather, which is also the most precious since the top coat (grain) is preserved in its most natural state, showing the pores
Advantages of having leather upholstery service
Leather is typically only used on the most exclusive, premium furniture pieces. "If you've ever been to a workplace where leather dominates the furniture, you know the impact it has. Nothing has a more elegant or timeless appearance than leather
Comfortable Furniture Made of Leather – As amazing as it looks, the leather feels. The luxurious warmth of leather simply cannot be matched by anything else. Although it may be stylish enough for the lobbies of 5-star hotels, it's also among the most comfortable pieces of furniture you'll ever sit on! The comfort level of leather seems to embrace you in a manner that fabric upholstery simply cannot.
Durable – The longevity of leather is one of its advantages. Technically speaking, durable goods are less expensive than non-durable ones. Comparatively speaking to non-durable products, it is simpler to use and maintain. 
Now, See where you can get this service from 
Why choose us? 
In addition to these typical advantages, using the services from UAE UPHOLSTERY will undoubtedly provide you with several extra advantages. You will always receive the best solutions from our  professionals,  Additionally, these experts will treat your time and money with greater respect and provide you with the greatest services within the agreed-upon time limit