Chair Upholstery Services
The only thing that distinguishes your house from others is your furnishings. Right? You must furnish your living room, bedroom, etc. Have you taken note of the months-old stain on your sofa and the scrapes on your pet's back? Then it would be beneficial if you gave furniture upholstery some thought.  
The technique of creating and restoring excellent chairs with fine features, like diamond tufting, top stitching, channels, webbing, coil springs, and "ultra-cell" foam, is called upholstery. Chair Upholstery is a specialist skilled trade. Upholsterers may choose designer fabric or leather for high-end chairs. Leather, linen, and coil springs are among the materials that contemporary upholsterers continue to employ. The replacement of animal hair (cow, horse, and hog), hay, and straw, however, has been done with Dacron, foam, cotton padding, imitation leather, and other synthetic materials.
So as we have gone through the chair's upholstery. Let us now proceed towards the advantages of it. 
DUBAI BRANCH
Risala Furniture LLC 9 24 A street, Al Quoz 1 Dubai – United Arab Emirates
ABU DHABI BRANCH
Abu Dhabi Island, Al Salam Street Behind Abu Dhabi Municipality And FAB Bank Heirs. Of Ibrahim G. Sultan Al Suwaidi Building ONLINE FURNITURE – Showroom no. S2 Abu Dhabi
The Advantages of chair upholstery 
Clean Up Your Environment
You might need to update the textiles on your important furniture items if you're upgrading the look and feel of your room. You may update the room without spending a lot of money on new furniture by reupholstering these worn-out or broken pieces.
Reupholstering furniture is an excellent upcycling alternative to tossing it away. This could also be a great opportunity to breathe new life into a cheap chair you picked up at a rummage sale.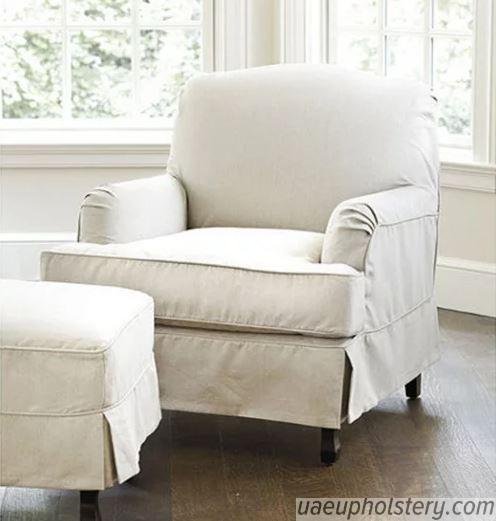 saves Favorite furnishings 
You don't have to get rid of a favorite chair or sofa that your grandparents passed down to you because it has some wear or is out of style. To give your thing a fresh look, reupholster it. owing to its vast collection of upholstery and multipurpose materials.
Maximize Your High-Quality Furniture
Nowadays, it might be challenging to obtain furniture of high quality. Reupholstering is an excellent option because it's typical for older, traditional furniture to live longer than its more modern competitors. For instance, if your solid wood couch frame is still in good shape, you might be able to save money by refinishing it to extend its lifespan.
There are times when you simply can't locate an item in the store with the precise fabric, colour, or pattern you want. You can select the style you want when you reupholster. This is especially useful if your room requires a chair or ottoman with a particular form or size. The seat fabric of the ideal chair might not match the décor of the room.
It's very hard to find a reliable and quality service provider for chair upholstery. We have bring you the best servicemen out there in UAE 
Why choose us? 
At UAE UPHOLSTERY, we assist you with the best quality work and craftsmanship. Our highly skilled workers have years of experience in this field. We can assure you that our assistance will prove the best decision for you. As we take your specifications, likes, dislikes, choice of colours and textures, material and fabric, and your pocket in our consideration and deliver you exactly what you are looking for