Storage Headboard: Maximizing Space and Style
Introducing our Storage Headboard collection, where functionality meets style seamlessly. In the modern quest for space optimization, our storage headboards shine as essential bedroom additions. These versatile pieces ingeniously utilize the often-underutilized vertical space above your bed, adding precious storage for your bedroom essentials.
What sets our Storage Headboards apart is their ability to reduce clutter. No more jumbled nightstands or overcrowded shelves. With these headboards, you can keep books, alarm clocks, or any other nighttime necessities neatly organized and within arm's reach.
But it's not just about practicality; it's about aesthetics too. Our storage headboards come in a variety of styles, materials, and finishes, making them the perfect match for any bedroom decor. Whether you prefer the classic warmth of wooden designs or the clean lines of a modern, minimalist look, there's a storage headboard to cater to every taste and elevate your bedroom's ambiance.
Discover the art of maximizing space and style with our Storage Headboard collection. Reimagine your bedroom, reduce clutter, and transform your space into a haven of comfort and elegance. Explore our selection today and experience the perfect fusion of form and function.
Unlock the Hidden Potential Above Your Bed with a Storage Headboard
Unleash the untapped potential above your bed with the magic of a Storage Headboard. We all know that space in our homes is a precious commodity, and your bedroom is no exception. Enter the game-changer: the Storage Headboard, designed to make the most of that often-overlooked vertical space.
This ingenious piece of furniture doesn't just add style to your bedroom; it transforms it into a sanctuary of order and functionality. Imagine having all your bedtime essentials within arm's reach but elegantly stashed away. Say goodbye to cluttered nightstands and hello to a clean, organized oasis where everything has its place.
Our Storage Headboards come in an array of styles, materials, and finishes, ensuring a seamless integration into your bedroom decor. Whether your taste leans towards classic wooden aesthetics or contemporary minimalism, there's a Storage Headboard that will resonate with your design preferences.
Unlock the hidden potential above your bed and redefine your bedroom experience with a Storage Headboard. It's the savvy choice for those who appreciate both form and function, providing a clutter-free and stylish space for rest and relaxation. Explore our collection today and elevate your bedroom to new heights of convenience and sophistication.
Elevate Your Bedroom Aesthetics: Discover Your Perfect Storage Headboard Style
Elevate your bedroom aesthetics and embark on a journey to discover the perfect storage headboard style that will redefine the way you experience your personal haven. In the quest for the ultimate bedroom upgrade, nothing quite compares to the versatility and elegance of a storage headboard.
What sets these headboards apart is their ability to seamlessly blend functionality with style. They are not just pieces of furniture; they are design statements that transform your bedroom into a sanctuary of beauty and order. With a storage headboard, you can maximize your bedroom's potential by utilizing the often-neglected vertical space above your bed.
But the true beauty lies in the variety of styles, materials, and finishes available. Whether you are drawn to the timeless allure of classic wooden aesthetics or the clean, modern lines of minimalist design, there's a storage headboard that perfectly complements your unique taste and bedroom decor.
Elevate your surroundings and infuse your bedroom with a sense of refined luxury and practicality. Discover the storage headboard style that resonates with your vision, and take the first step towards a more organized, stylish, and comfortable bedroom. Explore our collection today and reimagine your personal space like never before.
Quality Assurance:

We take pride in offering top-notch products that are built to last. Our storage headboards are crafted with precision and attention to detail, ensuring you receive a piece of furniture that not only looks great but also stands the test of time.

Diverse Selection:

Our collection boasts a wide range of storage headboards, each catering to different tastes and preferences. Whether you're a fan of classic, rustic, or contemporary styles, we have the perfect storage headboard to match your bedroom decor.

Functional Design:

Our storage headboards are not just about aesthetics; they are designed with functionality in mind. We understand the importance of maximizing space and keeping your bedroom organized, and our headboards are tailored to meet those needs.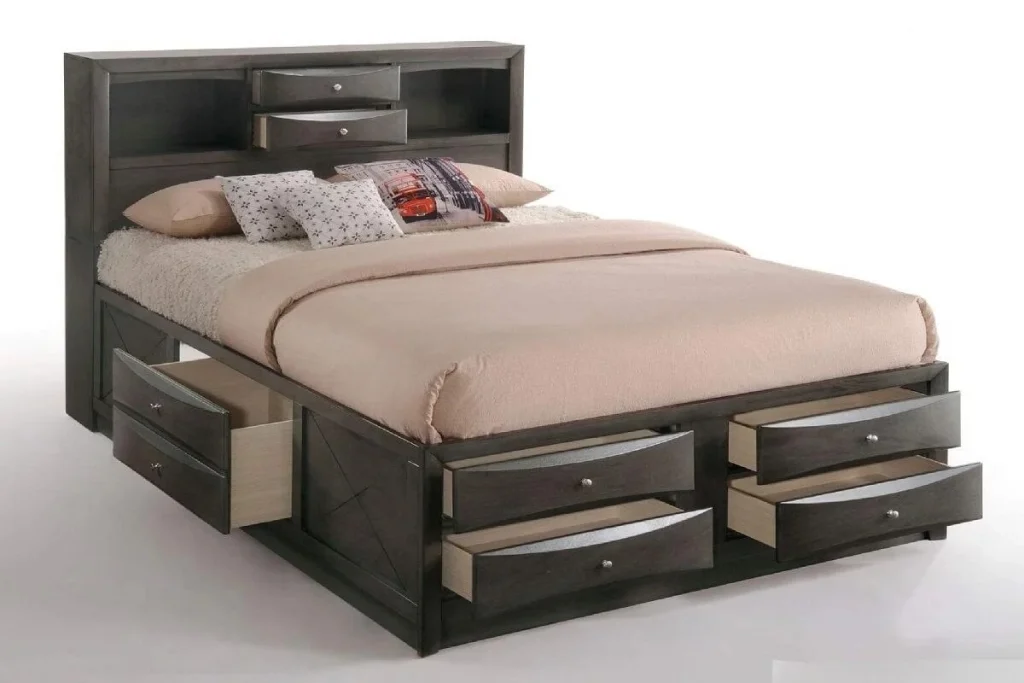 Customer-Centric Approach:

Your satisfaction is our priority. We provide exceptional customer service, from helping you choose the right storage headboard to addressing any post-purchase concerns. We're here to assist you every step of the way.

Affordability:

Quality doesn't have to come at a premium. We offer competitive pricing without compromising on the quality of our products. We believe that everyone deserves a stylish and functional bedroom space.

Customization Options:

We understand that your bedroom is unique, and your storage headboard should reflect your personal style. That's why we offer customization options, allowing you to tailor your headboard to your exact specifications.

Sustainability:

We are committed to sustainability and eco-friendly practices. Many of our storage headboards are crafted from responsibly sourced materials, so you can feel good about your choice.

Satisfied Customers: Our track record of Storage Headboard satisfied customers speaks for itself. Read our reviews and testimonials to see how we've transformed bedrooms and delighted homeowners.